Elegant, modern, with tradition
Welcome to Hotel Breitenburg, your haven of well-being. Here, everything that helps create a perfect break from your everyday life comes together. An exclusive hotel with a fascinating history, a restaurant with first-class cuisine that serves specialties from the region, and not to forget: a SPA where you can unwind and recharge your batteries. But we don't need to say much more. You simply have to experience Hotel Breitenburg for yourself. When may we welcome you?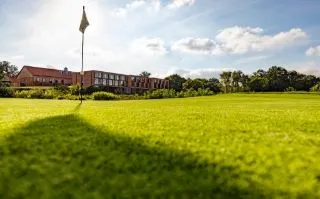 Nestled in the heart and natural beauty of
Schleswig-Holstein, surrounded by elder tree cover, as well as a first class golf course, you will find Hotel Breitenburg. An elegant and lovely luxury hotel, which features outstanding culinary art and is currently developing a large wellness center all focused on the surrounding natural environment.
The former stables of the comital estate "Gut Osterholz" have been extensively rebuilt to create 80 guest rooms of a high standard. The outer walls of the stable were preserved as an ensemble monument while the rest of the hotel was completely rebuilt, creating an interesting interplay between tradition and modernity.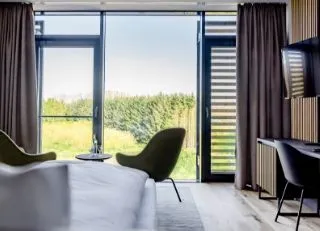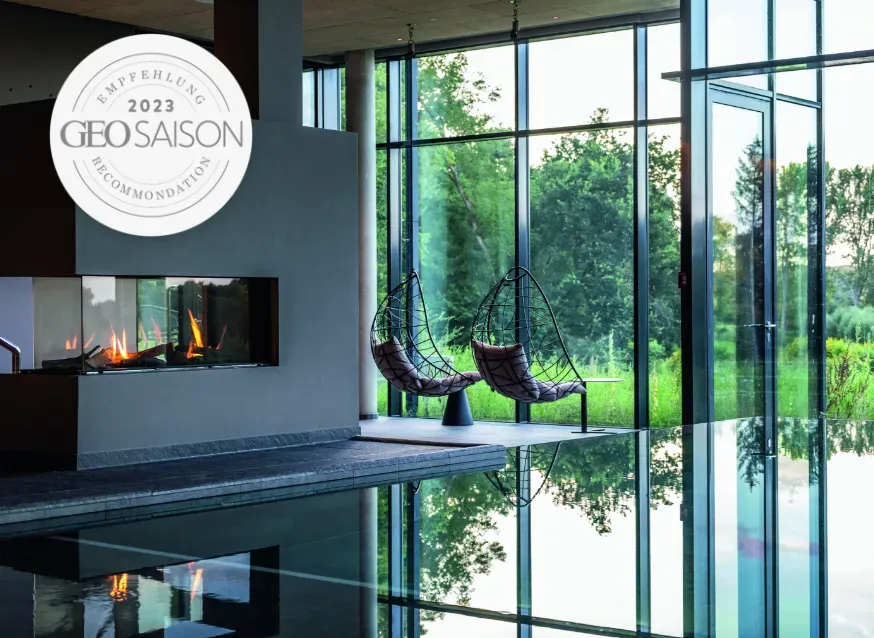 EXCELLENCE IN WELLNESS.
Since our opening, we have been doing everything we can to make our guests' stay in our hotel as relaxing as possible. A highlight for us – and our guests – from the very beginning has been the luxurious SPA area. With various massages, treatments, different saunas, spacious relaxation areas, and the infinity pool with a view of the canal, we offer our guests wellness par excellence.
We are all the more pleased that this approach has not only impressed our guests, but also the 11-member jury of GEO Saison. And that in two respects.
Hotel Breitenburg was voted among the top 100 hotels in Europe by journalists and experts from the tourism industry.
We are very excited about this award and would like to take this opportunity to thank our entire team for their great work. For, as GEO Saison put it so beautifully, without them, we would not have stood out.
History
The history of Breitenburg Castle dates back to the 16th century. In 1526, the knight Johann Rantzau of the Bordesholm Monastery acquired the only hill located within the local marsh, the so-called "Mönkenhof". On this overgrown dune, he then built the "Bredenbarg", then later castle Breitenburg. Since 1898 Breitenburg Castle, apart from constant renovations and maintenance work, has remained unchanged and continues to service as a home for one of the oldest aristocratic families of Schleswig-Holstein. Here you can read more.
Golf
A 27-hole course, playable in three combinations, is located in the beautiful Störniederungen and on the high Geest. The diverse terrain and landscape makes playing golf on this course interesting as well as very enjoyable. The golf course is located directly next to the new hotel, which makes it the perfect place to get away for a few hours during your stay, and escape the fast pace of everyday life.
Hiking and Bicycling
Hotel Breitenburg and its surrounding areas offer a unique green space with wide-open fields, luscious meadows, and centuries-old trails perfect for hiking and bicycling.
Horse Stables
Our modern stables can gladly be rented for your own horses for a fee of € 30 per day excluding food.
Hunting
All native wild animal species in this area are protected and managed by the Breitenburg estate. For generations, the roe deer has been hunted sustainably and selectively, in order to maintain a strong and robust deer population.
All hunting areas are located within an hour's drive from the hotel and we will provide you with transportation to the hunting grounds. Each wild game has its own hunting season. In order to hunt on these grounds you must present a valid German annual hunting license.